It's safe to say over the next few weeks a lot of people will become home worker warriors in the wake of the Coronavirus (COVID-19) pandemic. Although… this might not be unusual for many. Home and remote working are on the up with an estimated 4.3 million people working from home already totalling 13.4% of the UK workforce. But for the other 86.4% of us, the idea of working from home is potentially a completely daunting proposition.
It's Monday morning and ping… a new email drops into your inbox… 'The office is closed for the next 2 weeks and all employees will be working from home'. No biggie right? I'll work on the sofa, nice and comfy! Or maybe stay in bed, it's March and still cold out so I can 'work hibernate' there. Unfortunately not… spending a day on the sofa or in bed is fine every once in a while but if you did this for 2-weeks straight you could be on the road to… dun-dun-dunnnn… back pain!
But fear not… we've got your back with our 5 top tips on working from home (no pun intended btw).
1. Move More
If you've endured a conference call or two from time to time then this one's definitely for you. Get those funky headphones out and get your best Hugh Grant groove on around the house.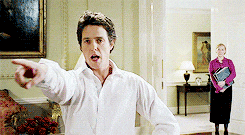 OK… maybe we're not all smooth movers like our friend Mr Grant. But the point is… why stay shackled to the desk or sofa when you can be up and moving around the house. Try standing or walking around the dining room or even take a few trips up and down the stairs (safety first of course!). Changing your posture throughout the working day has been linked to a significant reduction in back and neck pain. And if that's not enough… standing for as little as 3 hours per day, 5 days per week for a full year burns the same amount of calories as running 10 marathons! Mic drop.
2. Create a comfortable workspace
There are many people out there who already have an office set-up at home. Whether that's a desk with office chair and a PC, or using a laptop at the dining room table. In any scenario, it's vital that we're sitting in the correct position to protect our spine.
If you're using your dining room as a temporary office then try using a separate monitor, keyboard and mouse to create a makeshift desktop set-up. This will allow you to find a more neutral sitting posture, reducing the strain on your spine. If you don't have a separate screen try a laptop stand.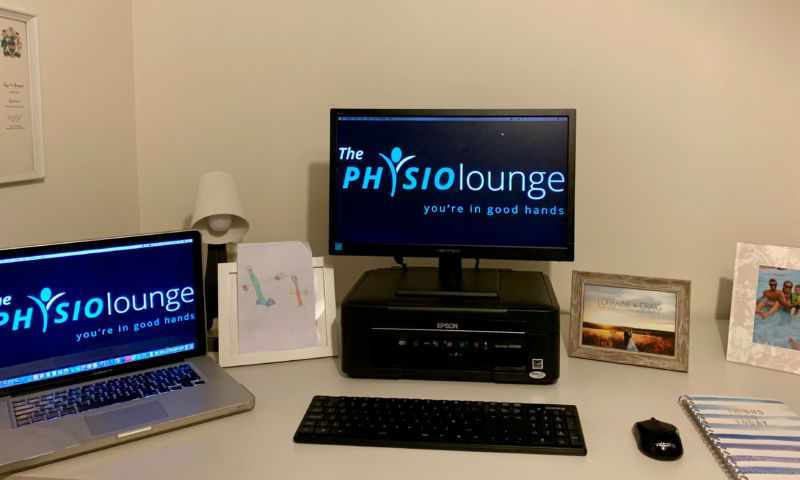 The bed or sofa may seem like a perfectly comfortable workspace but they can force you into postures and positions your body isn't normally used to. And then we add in the laptop or tablet, as convenient as they are, I'm afraid to say these things can wreak havoc on the neck and upper/lower back when working from home.
3. Avoid the bed or sofa office
When we sit up in bed, our spine's natural curves are taken away, we sit in a bent 'C' shaped position putting increased force at the base of the neck or lower back. Think 'Tech neck' where the head is tilting forward and looking down with protracted (rounded) shoulders and a curved upper back. This position causes all of the big stabiliser muscles in the upper back to be placed in a lengthened stretched position, leaving them unable to effectively do their job in this 'new' position.
So what takes up the slack…? You guessed it… the neck! This position places us at an increased risk of picking up disc or joint-related pain in the neck, as joints become stiff and stabilising muscles become weak.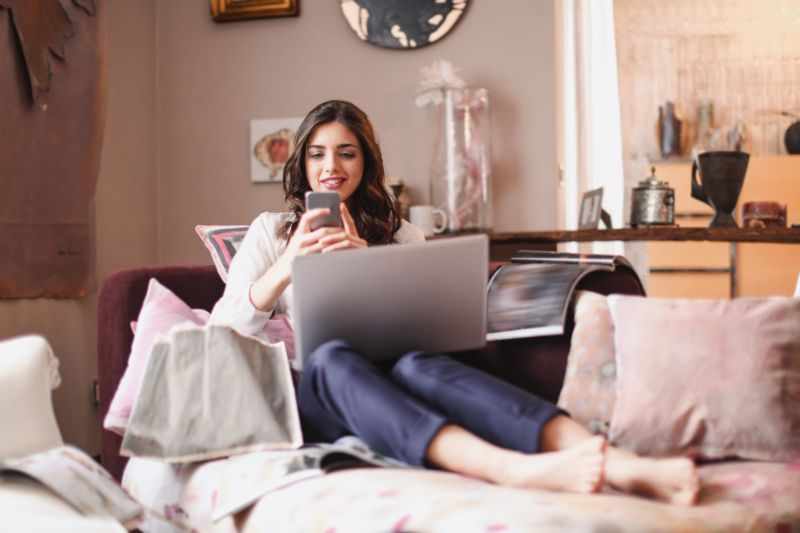 It's a similar situation with the sofa, if not worse. In this more upright position, the neck is forced to look down at the laptop, which is now in a lower position than on bed or at a desk. This forces the head into an even greater forward position. For every 2-3cm your head pokes forward, the load on your neck and shoulder muscles, intervertebral discs and spinal joints doubles. So if your head pokes forward 2-3cm the stress on your neck may increase to 10-12kg of constant pressure. If your head pokes forward 4-6cm the stress on your neck may increase to a whopping 20kg of constant pressure!
4. Invest in your Chair
Most businesses will have supplied a decent standard of orthopaedic office chair for their staff so a sudden change from the norm can have a real impact on your back. We've all been on that long-awaited holiday and woke up after the first-night longing for our own bed, as we try to gracefully get-up holding our neck or lower back. Our bodies are simply not lovers of sudden change, and this definitely applies to your chair. Spend some time selecting a comfortable ergonomic chair that can be adjusted with at least the following basic functions:
Height adjustment
Back adjustment
Lumbar support
Armrests
Tilt function
In some circumstances, your employer may allow you to 'borrow' your office chair for the duration of the 'work from home period'. There's no harm in asking nicely. But if you need some guidance then feel free to get in touch and we would be happy to assist with sourcing a suitable option through our supplier.
5. Arrange an online ergonomic assessment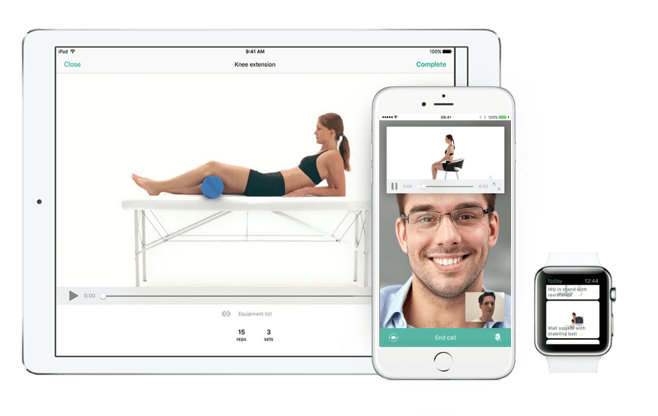 Our specialist physiotherapists can offer guidance and advice on correct home working set-up using our online ergonomic consultation service. We would connect to you via a secure video link using Zoom to complete a workstation assessment. During the session, the Physio will review your current working set up, ask if you are experiencing any pain and chat about your medical history. Following the assessment, you will be provided with tailored recommendations and a summary report to help you to improve your current arrangements. We can also help with sourcing any additional equipment you may need to make your working area more comfortable.
For more information on this service click here or you can book online below: